Being such a busy time of year for everyone, Christmas seems to come up so quickly and often the season can get on top of you! Before you know it, the Christmas rush has taken its toll and cooking and catering is the last thing you want to consider.
Thankfully we are on hand! We really enjoy catering for special celebrations and Christmas is no exception. So if you'd like us to cater for your Christmas function, large or small, get in touch, we have lots of ideas!
We also have a fabulous large table in the Café that is perfect for any Christmas get together. Seating up to 16-18 people the table can be reserved for social gatherings, meetings outside usual business hours with our catering service offered to utilise.
What's more, we can even help with gift giving. Our store at Christmas time is bulging with homeware gifts, deli products and handmade Christmas goodies. Plus, we have Christmas cakes, tarts, hams and much more – and all can be ordered for pick up or delivery. Keep an eye out to for our beautiful Christmas hampers which we can make up to any size and value – again, these can be picked up or delivered throughout the Tauranga area, to make Christmas easy for you.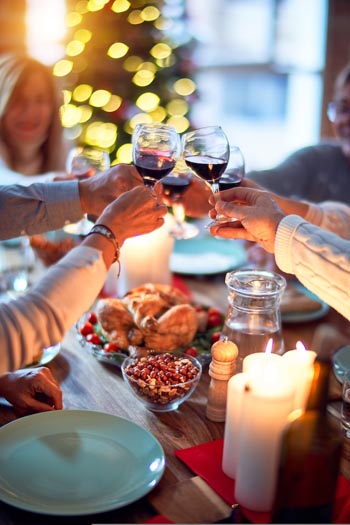 Christmas Menu 1
Our Delicious Spiced Honey and Marmalade Glazed Ham on the Bone with a selection of
Mustards
Seasoned Whole Scotch Fillet with Demi-Glaze Gravy
OR
Boneless Cranberry Stuffed Turkey with Persian Cranberry Sauce
Chaat Masala Potatoes with Roasted Red Onions, Baby Spinach and Coriander Yoghurt
Drizzle
Gourmet potatoes with minted butter
Grilled Corn + Pineapple Summer Fiesta Salad with Corn, Pineapple, Red Onion, Green
Beans, Coriander, Avocado with Lemon/Lime Juice- DF, GF, Vegan
Finishing With Sweet Treat Platter
Selection of Mini Christmas Tarts, Chocolate Brownie, Any Berry brownie OR Seasonal fruit platter with mini sweet slices.
Slice- (3 pieces per pax)
Price Per Person $67.50 inc GST
Delivery -TBA 
Christmas Menu 2
Our Delicious Spiced Honey and Marmalade Glazed Ham on the Bone with a selection of Mustards
Lemon & Herb Baked Chicken Thighs with Demi-Glaze Gravy
Seasonal vegetables with mixed spice, nuts and lemon curry dressing
Berry Merry Christmas Salad with Rocket, Basil, Cucumber, Strawberries,
Tomatoes, Pomegranate Seeds with Berry Vinaigrette -GF, DF, Vegan
Selection Artisan Buns-(2 per pax) with Butter on Side
Finishing With Sweet Treat Platter-
Selection of Sweet Treats chef's choice
Slice- TOPPINGS(3 pieces per pax)
Price Per Person $62.00 inc GST
Delivery -TBA inc GST